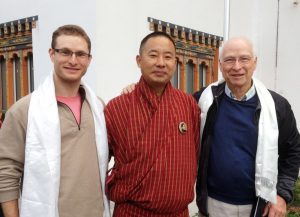 My son and I had a wonderful trip to Bhutan planned , organized and led by Drukyul Holidays Tour. http://www.drukyulholidays.com.  It was a fascinating and very enjoyable experience which included  an introduction to the historical and cultural life of Bhutan , visits to shrines and temples and some marvellous treks to beautiful remote areas of the country. 
Our guide, Dorji was exceptional ! He took us places off the beaten track , organized home stays, arranged for our participation in the Royal Highlander Festival  which the King  of Bhutan was also attending and ensured we were physically ready for altitude trekking by taking us on a number of training hikes which  got us ready for our highest trek of 4,100 metres ( 13,000 ++ ft)
Drukyul Holidays has experience  organizing  private tours like ours ( just the two of us ) up to 15-20 participants. Dorji has an extraordinary network of friends and colleagues which gave an added value and insight into the inner workings of the country.
We highly recommend using Drukyul Holidays if you are considering a visit to Bhutan.